EE75-EE160 Two-Stage Horizon
Applications:
Paper & pulp
Machine tool shops
Textiles
Cement
Automotive
Steel making
Food processing
Oil carry over less than 2ppm
Grouped service points ensure easy access to components for maintenance
Optimized cooler design and cooling fans ensure low running temperatures
Versatile neuron II micro controller provides easy diagnostics of system parameters
Models available as bare units/side located drier/variable speed drive variants
Wide range of accessories – vertical air receivers, driers, automated supply side controller and variable frequency drives to meet diverse operating conditions
Ratio of Suction to Discharge of a Screw Airend:
A single-stage compressor, operating at a discharge pressure of 9 bar, has a compression ratio of 1:9 (Ratio of Suction to Discharge of a Screw Airend) .In a two-stage compressor operating at the same discharge pressure, the compression ratio is divided between the two-stages of tandem airend and is about 1:3 in each stage. This makes the airend more reliable and efficient due to smaller loads on the bearings. The volumetric efficiency of two-stage is better than single-stage compression.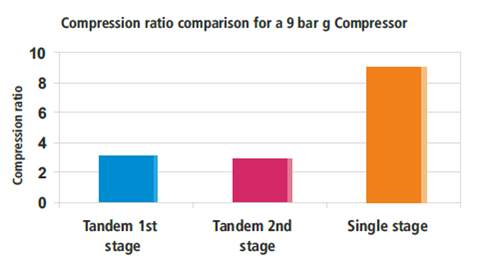 Energy Efficiency of Tandem Screw Compressors:
ELGi offers tandem screw compressors to help industries reduce their operating and energy costs. It is two-stage compressor, having energy efficiency as the key features. The compression is done in two-stages to improve the volumetric efficiency and thereby contributing to decrease in power consumption and increase in saving energy costs. Tandem air compressors consume 8-12% less power and offer a return on investment within 8-15 months when compared to single-stage compressors.